Serenity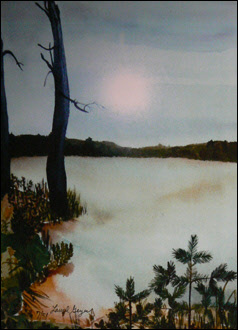 JUNE 29 2021: Serenity is the name of the first Limited Edition print (51) that sold at the Gallery! The woman who bought it said that it was very Pacific Northwest. The gallery in Port Townsend is called TAKE 5. This week I went back into the gallery and my Hungry Heron sold too! He did find a new home and that makes me happy to be sharing my art with people. So I am actually busy framing instead of painting. Although I did paint a couple of VOTE VEGA signs on the weekend. My daughter did the lettering and I painted the branches. They turned out great for my other daughter's partners campaign.
This weekend we were under an extreme heat warning. Most people here in the NW including us, do not have air conditioning, so temps in the 100's or even in the 90's are dangerous. My daughter from Olympia and her husband came up and we all went to a beach on Sunday. We found a spot under the shade of some trees and just spent the entire afternoon into the evening. The water was ice cold and refreshing. We thought that we stayed in the shade, but we all managed to get sunburned. Used lots of aloe and did not venture out the next day except to buy some sandwiches for lunch. It was so hot but not humid, and no mosquitoes. Now we are back into the comfortable 70's.
Our cherry tree is beginning to supply us with delicious sweet cherries! Raspberries and blueberries will follow. It is a great time of year...SUMMER!