On The Water - By Michelle Yandre
Waupaca Chain O' Lakes Association History Committee published book on history of the Chain.
Cover illustration by Laurel Geyer
For members of the Waupaca Chain 0' Lakes Association History Committee, the idea to publish a book about the history of cottages and memories of life on the Chain finally became a reality.
The book: Our Cottages and Memories, consists of 45 individual submissions regarding families personal experiences while living on or visiting the Chain. Submissions came in from residents, renters, visitors and previous owners who no longer live on the Chain.
They came by mail and by computer. They came on napkins, people dropped them off and people asked if we could pick them up," committee member Mary Ann Wells says.
When they handed the first copy to me to take home to proofread, I couldn't believe it had gotten to that point," Wells says.
Sarah Krueger, a history committee member, worked many hours putting the book together. Wells and Krueger put in more than 100 hours of editing, typing and proofing, and in the process they gained a great deal of knowledge about the Chain's history.
Krueger and Wells agree that the themes of the submitted stories are relatable to present-day life on the Chain. There also are stories about the Crystal River and Whispering Pines. "There is so much that even if you didn't submit a story about your cottage, you can read this and go, 'that has happened to me,' Krueger says.
There are stories about people going to farms to get groceries, stories about outhouses, as well as the introduction of running water into homes. There is also a lot about genealogy within the book.
"They talked about how it's passed from family member to family member, who owned it previously, and who they bought it from," committee member Bob Kessler says.
One interesting aspect of life on the Chain is the amount of time and the modes of transportation needed to get to the lakes, especially for those traveling from afar. The Chain has always been a popular place for out-of-area vacationers. It used to take a couple of days to get to the Chain from Illinois. People arrived by train, took the electric trolley to the Grandview Hotel, and then took boats to get to their cottages. Some were transported to their cottages via the water taxi.
Both the Wells and Krueger families' rented on the Chain before purchasing cottages. Krueger's family has had their cottage since 1901 — five generations. It is still on tree stumps it was originally built on. Other cottages have been on the Chain since the late 1800s. "A lot of people take it for granted, and don't realize it's been a recreational area for well over 120 years," Wells says.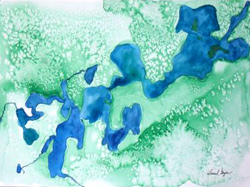 People who visit the Chain can see the historical cottages and sites by boat, thanks to a map located in the upper right-hand corner of each story in the book. The historical location is marked with an anchor though not all the historic cottages remain.
"Some [cottages] don't exist [anymore]. The family might still own the property, but the original cottage is gone and a new house is built in its place because they retired up here because they loved it so much," Krueger says.
The cover of the book features an original watercolor painting by Laurel Geyer. There are many pictures throughout, which were submitted along with stories inside the book as well. "There are pictures of families, of the cottages and of scenery," Kessler says.
The Waupaca Chain O' Lakes Association History Committee designed and worked on the book without the need for sponsors or advertising. Original copies of the book will be filed at Waupaca Historical Society.
The book was originally slated to be completed a year ago, but because of the submissions that continued to trickle in, deadlines were pushed back, but a few copies have already been pre-sold because of high anticipation.
The book took three years to complete, and is now available to purchase for $37. Books can be found at Kate's Gourmet, Chain 0' Lakes Marine gift shop, Shambeau & Lyons Real Estate, Waupaca Historical Society and Waupaca Chamber of Commerce. They will also be sold at the association's annual meeting.